Start Early on the College Pathway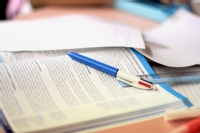 For students who are planning to attend college, it is essential to start preparing early.
That means strong study habits, community involvement, and strong support from parents and the community.
Homework Tips & Study Skills
Below are websites full of study tips and strategies to succeed in high school and middle school.
Parents Help Students Study Better
These links are to help parents improve their child's chance of success.
Pathways to the University of California
Welcome, prospective University of California student! By exploring UC admissions,
you are taking first steps on the path to a college education. This brochure will outline
what you need to do to qualify for admission to one or more of UC's campuses.