College Mentoring Services
EAOP at UC San Diego offers college mentoring services to high school students at partner schools. Mentoring includes assistance with individual academic plans, entrance exam review, the admissions process, financial aid and scholarship applications, verification of Equal Opportunity Program (EOP) eligibility, the Statement of Intent to Register (SIR), and overall preparation for getting into and attending college. Usually functioning as a member of the counseling team, EAOP undergraduate mentors call students in on a small group and individual basis. They develop relationships with "their" students, helping them to create plans for achieving their post-secondary goals, whether it is attending community college or UC Berkeley.
Eligibility for EAOP mentoring services is based upon school site and GPA. Schools currently receiving EAOP mentoring services in San Diego County, by district, include: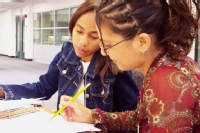 San Diego Unified

Gompers Preparatory Academy
Lincoln High School
Morse High School
San Diego High School

Sweetwater High School Union

Castle Park High School 
Chula Vista High School
San Ysidro High School
Contact us for more information.