Comienza con un Sueño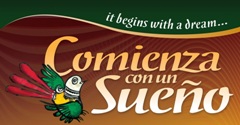 Comienza con un Sueño, "It Begins with a Dream," is a college outreach event held every year by UCSD in an effort to encourage first-generation low- income students from Spanish speaking families to continue and pursue a higher education.
Parents can find information for their children on how to get to college, how to succeed in college, and how to succeed after college, as well as information on careers and find plenty other resources.
The event is free and open to all parents and students; you may register on-site if you are interested in attending. Parking is free and free food is also provided. 
Past Comienza events were held on: March 6, 2010, March 7, 2009, and May 31, 2008.  
Check out the most up-to-date information by visiting the Comienza con un Sueño page.